Who Is
Michael Michelini 迈理倪
Grew up in NorthEast USA (CT, NJ, NYC)
3rd generation American
Grandparents from Italy, Russia, France, Canada
First website in 1999
Deutsche Bank, Wall St. 2002 – 2007
Selling online since 2003
Moved to China end of 2007
2004- 2011: E-commerce company selling home & gift products B2C in USA
2008 – 2010: Sourcing & logistics office in China, Call Center in Philippines
2010 – now: Shadstone Ltd, Assist USA & China companies via training / consulting
2011 – now: Startup Weekend's China Facilitator
2012 – now: Latest venture – SocialAgent.me – helping companies find sales in China
Read the Latest from
Mike's Blog
I'm really excited to be going to the Philippines after a couple years! I'll be going right after July 4th, on Sunday morning July 5th from Hong Kong. Heck, I haven't left China in so long, never mind going to the Philippines – I am looking forward to a change of pace. When I'll be in Philippines I'm flying from Hong Kong direct to Cebu – early in the morning on Sunday. DEPARTURE HongKong to Cebu Flight No: 5J 241 Departure 05 July 2015, Sunday, 0940 H (09:40 AM)Hong Kong International Airport Terminal 1 Arrival 05 July 2015, Sunday, 1215 … Continue reading Going to Cebu, Philippines in July!
The post Going to Cebu, Philippines in July! appeared..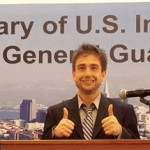 Another July 4th in China. This year had a bit of a different style to it. The US Embassy invited me to Guangzhou for the Celebration of the 239th year of the United States of America. Sure I'll take them up on the offer! Haven't been to Guangzhou since going last year for Miles emergency passport. Walking back into the US Consultate for the party brought back memories from that frantic time. American flags covered the US consulate, more than usual. Various posters of the phases of the American flag over the years. In addition to the flags, there was … Continue reading Happy July 4th From China
The post
Been a month already! I studied Chinese with tutors for the past month via the online platform italki as part of their June Language Challenge and here is my video proof … hopefully I'm a bit better… I wish I could study more and full time, but keep in mind this is while I'm doing my work at Unchained Apps, consulting, podcasting, book writing, etc!
The post Results from my Chinese Learning Challenge w/ italki in June appeared first on Mike's Blog.