Who Is
Michael Michelini 迈理倪
Grew up in NorthEast USA (CT, NJ, NYC)
3rd generation American
Grandparents from Italy, Russia, France, Canada
First website in 1999
Deutsche Bank, Wall St. 2002 – 2007
Selling online since 2003
Moved to China end of 2007
2004- 2011: E-commerce company selling home & gift products B2C in USA
2008 – 2010: Sourcing & logistics office in China, Call Center in Philippines
2010 – now: Shadstone Ltd, Assist USA & China companies via training / consulting
2011 – now: Startup Weekend's China Facilitator
2012 – now: Latest venture – SocialAgent.me – helping companies find sales in China
Read the Latest from
Mike's Blog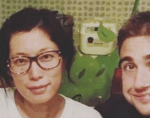 Life is good. I'm so fortunate to know this amazing woman, love ya!
The post Happy Birthday to My Wife Wendy appeared first on Mike's Blog.
Decided to publish this, have a bit of creative writer's block in my morning writing session so rambled a bit, I don't feel bad if you skip this post Sunday morning reflections. Each day that goes by, I am closer to dying. Need to make each day count. Need to also realize that my body is just a container for my soul. It is only flesh and bone. A lot of the needs, wants, and desires are for the flesh. Need to reduce this need for more. I keep playing the Marcus Aerilius "meditations" in my mind. Each day I … Continue reading Sunday Morning Ramblings
The post Sunday Morning Ramblings appeared first on Mike's Blog.
Typing this one up from "inside the machine" at DCBKK 2015 in Bangkok, Thailand. Been trying to keep up my morning routine and write every morning, which is a real extreme challenge here as this conference is action packed from 7am to midnight! Just fortunate to have found this community and been able to stick with it for the years. Today I just like to reflect some of the things I learned and takeaways for my own business. New Pre-DCBKK Event Meetups Dan, Ian, and the rest of the guys at DynamiteCircle have just kept growing this conference! Now there … Continue reading Amazing Time at DCBKK 2015
The post