Who Is
Michael Michelini 迈理倪
Grew up in NorthEast USA (CT, NJ, NYC)
3rd generation American
Grandparents from Italy, Russia, France, Canada
First website in 1999
Deutsche Bank, Wall St. 2002 – 2007
Selling online since 2003
Moved to China end of 2007
2004- 2011: E-commerce company selling home & gift products B2C in USA
2008 – 2010: Sourcing & logistics office in China, Call Center in Philippines
2010 – now: Shadstone Ltd, Assist USA & China companies via training / consulting
2011 – now: Startup Weekend's China Facilitator
2012 – now: Latest venture – SocialAgent.me – helping companies find sales in China
Read the Latest from
Mike's Blog
So welcome to my second "Grind Report". I feel the pressure as I write this – and to be open with ya – I haven't run the results yet. Wanted to write this before I do the numbers. But I have a feeling I fell short at the end of January. I hate to have excuses, but it is real – I just had my 2nd baby on Jan 24th. All this family matters of course comes before my grind report. Milestones What are some of the key milestones of January? 1. Started out strong – I think all of … Continue reading January 2016 Grind Report
The post January 2016 Grind Report appeared first on
Almost Chinese New Year here! The city is emptying out and we pass right through the chaos at Luo Ho border crossing. But then take about an hour drive out of downtown to Da Peng Village to see a fortress and a temple. Had no idea this place existed until today! Ate some funky food, spun Miles around, and overall had a great time, enjoy!
The post Visiting a Chinese Temple Before Chinese New Year – VLOG013 appeared first on Mike's Blog.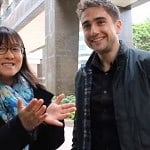 Love you guys – getting great feedback just a couple days after putting online. Met some of my good friends in Hong Kong to get some testimonials – and also randomly walking around in Wan Chai and Central district for a bit of people watching! Book is free on Amazon until Friday make sure you grab it – http://www.amazon.com/gp/product/B01AVWFWS6 and best of luck with your business in China, Hong Kong, or anywhere in the world!
The post Why Writing a Book Is Awesome + Hong Kong Sightings VLOG012 appeared first on Mike's Blog.