Who Is
Michael Michelini 迈理倪
Grew up in NorthEast USA (CT, NJ, NYC)
3rd generation American
Grandparents from Italy, Russia, France, Canada
First website in 1999
Deutsche Bank, Wall St. 2002 – 2007
Selling online since 2003
Moved to China end of 2007
2004- 2011: E-commerce company selling home & gift products B2C in USA
2008 – 2010: Sourcing & logistics office in China, Call Center in Philippines
2010 – now: Shadstone Ltd, Assist USA & China companies via training / consulting
2011 – now: Startup Weekend's China Facilitator
2012 – now: Latest venture – SocialAgent.me – helping companies find sales in China
Startup Weekend China
http://startupweekend.org/about/global-team/
Startup Weekends are weekend-long, hands-on experiences where entrepreneurs and aspiring entrepreneurs can find out if startup ideas are viable. On average, half of Startup Weekend's attendees have technical or design backgrounds, the other half have business backgrounds.
Read the Latest from
Mike's Blog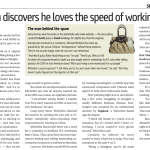 I'm really excited to share that I was featured in a recent article in NJBiz magazine December edition (web link here) for my love of working in China. Have been getting a bunch of people, both those I knew already and those who learned about me for the first time after they read this magazine. […]
The post Featured on NJBiz Magazine For My Love of The Speed Working in China appeared first on Happiness in Pursuit.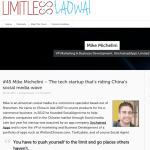 I've been hosting a podcast for over a year now, but have not had the chance to be on a podcast interview since JP had me on China Business Cast in late 2013, and on Terry Lin's Build My Online Store episode 3. So this was a fun time to get on the other side […]
The post Had a lot of fun being interviewed on Limitless Laowai Podcast! appeared first on Happiness in Pursuit.
I have really been slowing down on my blog here, have been putting the Hong Kong and China business posts on Global From Asia blog and podcast and also deep into my work at Social Agent which is now Unchained Apps. But I will still be posting on the blog here more for a personal […]
The post 2014 Year in Review appeared first on Happiness in Pursuit.